Coalition, Advocates, and Elected Officials Discuss Investments in Immigrant Communities in New York City's FY2017 Budget
FOR IMMEDIATE RELEASE
Press Contact: Thanu Yakupitiyage, Main Phone: 212-627-2227 x235, E-mail: tyaku@nyic.org

New York (

Thursday, June 16, 2016

)
Coalition, Advocates, and Elected Officials Discuss Investments in Immigrant Communities in New York City's FY2017 Budget
Coalition and Partners Will Discuss Significant Wins and Additional Resources Needed for Immigrant Services After Release of New York City Budget
(New York, NY) Today, New York Immigration Coalition and our member groups, joined by New York City Council Chair of Immigration Council Carlos Menchaca came together to discuss significant wins and ongoing challenges for New York City's immigrant communities. New York City's FY2017 budget was agreed upon on June 9th and reflects essential investments that our immigrant communities truly need to survive and thrive.
Steven Choi, executive director of the New York Immigration Coalition stated, "In a city where three million immigrants make up nearly forty percent of the population, we look towards the City's budget as a lifeline for growth and investment in immigrant communities as well. We commend Speaker Melissa Mark-Viverito, Mayor Bill de Blasio, Immigration Committee Chair Carlos Menchaca, Finance Committee Chair Julissa Ferraras-Copeland, and the New York City Council for ensuring that this year's budget reflects the types of essential investments that our immigrant communities truly need to survive and thrive. These victories are a testament to the work of dozens of advocates and our champions at the City level who have relentlessly kept the needs of immigrant New Yorkers at the forefront of conversations about the city budget. At the same time, there are still opportunities for additional resources for immigrant communities."
Among some of the key investments for immigrant communities are:
Improvements and Expansions to Adult Literacy: The budget's $12 million investment in adult literacy is a key down payment and a significant, positive step in the right direction for our city, and we are grateful that the needs of adult learners were included in this budget season.
Expansion of Immigration Legal Services: Within the Immigrant Opportunity Initiative (IOI), the City Council provided an additional $2.6 million to continue funding to 26 groups who received IOI in previous years but were not selected through the Human Resource's Administration (HRA) bidding process for the baselined funds. The $3.3 million baselined funds were allocated to a total of 21 groups, including 9 previous IOI recipients. In addition, $1.5 million will continue to be provided for legal services for unaccompanied minors and adults with children, and the New York Immigrant Family Unity Project (NYIFUP) received a $1.3 million increase to $6.2 million to represent detained immigrants.
Maintenance of Funding to Access Health: The City will maintain Access Health NYC a little over $1 million. Access Health NYC funds community-based organizations to conduct critical outreach and education to New York's hardest-to-reach populations, including uninsured immigrants who have been left behind by federal health care reform and have trouble navigating our complex health system. Maintenance of the $1 million funding level falls well short of the enhancement to $5 million that was sought, but is a testament to the impact of the initiative in its first year, during which nearly 330,000 New Yorkers benefited from Access Health NYC's programs.
In his statement, Council Member Carlos Menchaca said, "Our vision of inclusion is alive and well in this year's New York City budget. We fought hard to ensure that every New Yorker, regardless of immigration status, who wants to gain English literacy skills should have access to a class in their own neighborhood. I want to thank the Mayor, his Administration, the Speaker, the Finance Chair and the entire Council for showing their commitment to adult education with an allocation of $12 million – the largest City budget allocation to adult literacy services in recent history. But the struggle – 'la lucha' – is not over. This victory is a down payment in the long journey toward universal access to education for all of our New York City working families.
He added, "I will continue fighting, alongside my colleagues, advocates, and families, to ensure that funding for education, health, legal services, senior services, LGBTQ services, and other needs is going to community-based organizations that are directly serving the most in need and the hardest to reach individuals in our districts, including our working immigrant families."
Advocates and affected immigrants discussed the wins and losses, and the road ahead for New York City to truly uplift immigrants.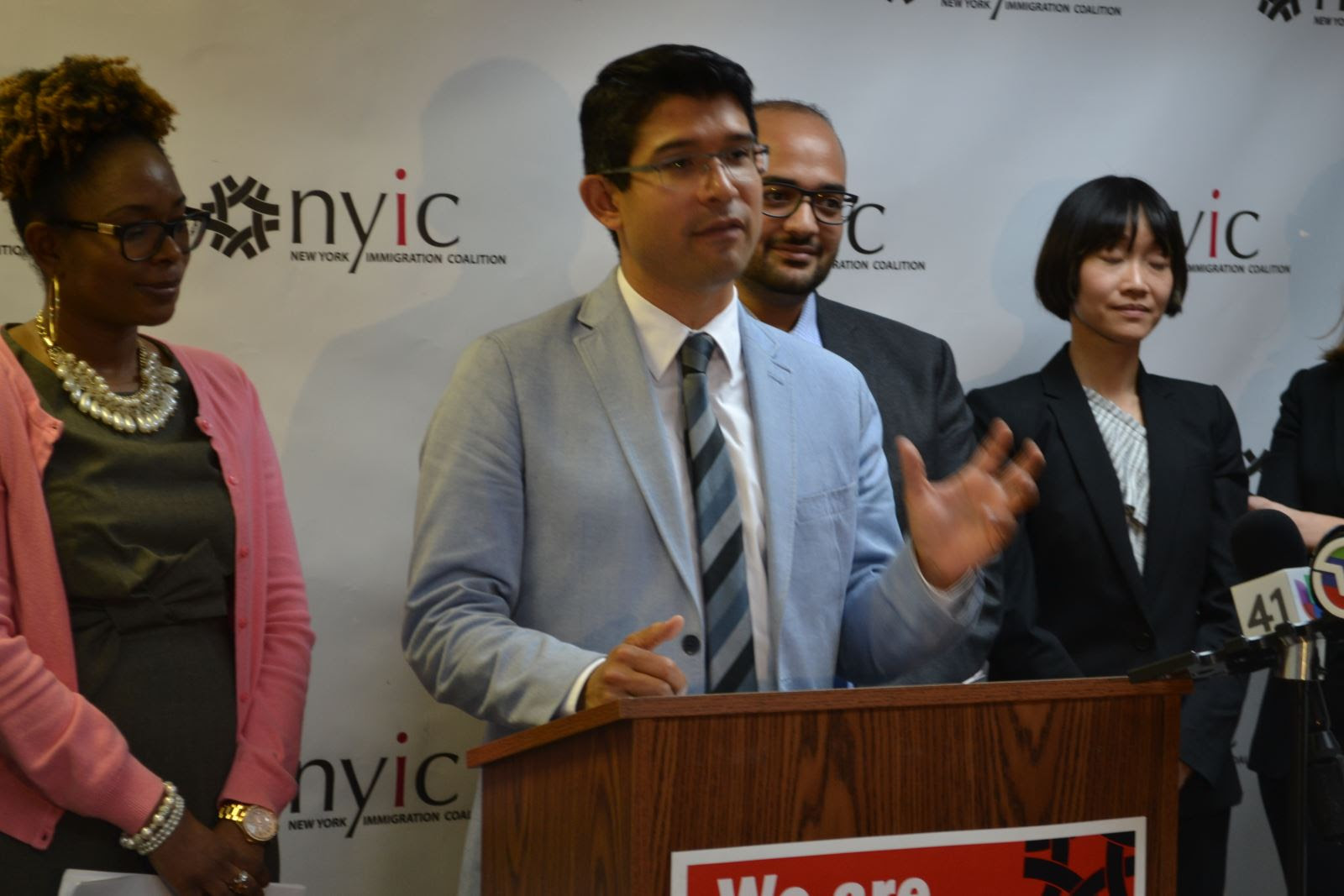 Council Member Carlos Menchaca speaks about the FY2017 budget at NYIC's press conference today.
"Like many other community-based organizations, Chinese-American Planning Council, Inc. ("CPC") strives to meet the ever-growing demand for adult literacy programming. In fact, CPC actually serves over our minimum contracted number of students," Janice Won, Interim President & CEO, Chinese-American Planning Council, Inc. "Despite the breadth and scope of CPC's city-wide classes, the number of people on our waiting list has now eclipsed the total number of students we serve in one year. The significance of the City's $12 million investment sends a clear message to immigrant New Yorkers – that New York City is serious about addressing a burgeoning need in diverse cultural communities which will be more empowered toward economic self-sufficiency."
Janice Won, Interim President & CEO, Chinese-American Planning Council, Inc speaks about adult literacy.
"New York City's nonprofit legal service providers are profoundly grateful to the City Council for its sustained commitment to immigration legal services in its Fiscal Year 2017 budget," said Carmen Maria Rey, deputy director, Immigration Intervention Project, Sanctuary for Families. "At Sanctuary for Families, our capacity to handle even complex, challenging legal cases represents a critically important resource for thousands of deeply vulnerable immigrant abuse survivors and children. This funding ensures that our immigration legal staff will remain intact, allowing us to provide these life-saving services for many more immigrants in the year ahead."
"While in a shelter in 2010, I could not possibly have imagined that I would recover from the abuse that was perpetrated against me and grow to achieve stability and success," Pei-Fong Kuo, client, Sanctuary for Families. "The free legal services that I received through Sanctuary for Families made this possible. And for that, I will be forever grateful."
| | |
| --- | --- |
| | |
| Carmen Maria Rey, deputy director, Immigration Intervention Project, Sanctuary for Families | Pei-Fong Kuo, client, Sanctuary for Families |
Suzanne Robinson Davis, program manager, HIV Partnerships for Care Program (P4C), Bedford-Stuyvesant Family Health Center thanks the City for maintaining funding for Access Health NYC, saying, "Irrespective of their gender, race, sexual orientation, class or creed, nationality or immigration status, whether young or old, each person who calls New York home should be allowed access to prevention and primary care."
Suzanne Robinson Davis of Bedford-Stuyvesant Family Health Center speaks about Access Health NYC and its benefits to communities.
# # #
The New York Immigration Coalition (NYIC) is an umbrella policy and advocacy organization for nearly 200 groups in New York State that work with immigrants and refugees. The NYIC aims to achieve a fairer and more just society that values the contributions of immigrants and extends opportunity to all by promoting immigrants' full civic participation, fostering their leadership, and providing a unified voice and a vehicle for collective action for New York's diverse immigrant communities.