Immigrants, Advocates, and Elected Officials Demand Enhanced Resources for Legal Services in City Budget
FOR IMMEDIATE RELEASE
Press Contact: Thanu Yakupitiyage, Main Phone: 212-627-2227 x235, E-mail: tyaku@nyic.org

New York (

Wednesday, May 11, 2016

)
Immigrants, Advocates, and Elected Officials Demand Enhanced Resources for Legal Services in City Budget
New York City must strengthen expert attorneys and organizations to serve the complex legal needs of immigrant clients facing the system that exists today
(New York, NY) Today, advocates, lawyers, and their immigrant clients, joined by Council Members Carlos Menchaca and Vanessa Gibson, and Public Advocate Chief of Staff Ibrahim Khan, highlighted the urgent need for the New York City budget to include funding for a broad range of immigration legal services.
While groundbreaking investments have been made by New York City to assist immigrants with basic applications, an ever-growing number of New York's immigrants are forced to navigate complex deportation proceedings and immigration hearings without a lawyer, with the result that many are not able to benefit from rights and remedies they qualify for. Advocates and electeds argued that to provide meaningful and necessary support to the needs New York's immigrants face today, the final New York City budget must include $13.5 million for legal services through the Immigrant Opportunity Initiative, as well as baselining funding for the New York Immigrant Family Unity Project (NYIFUP) and the Immigrant Children Advocates Relief Effort (ICARE). This is particularly important in the absence of federal relief programs, as New Yorkers continue to face the threat of deportation and are unable to achieve legal status because of inadequate access to legal support.
"Our immigration legal system is daunting, complicated, and fundamentally unjust towards those whose lives it directly affects," said Steven Choi, executive director of the New York Immigration Coalition. "The only way to meaningfully protect our communities from the devastating impact of deportation is to strengthen our City's legal services providers, who have the knowledge and expertise to navigate this broken system. We call on our City Government to create a budget that includes significant funding for immigration legal service providers and give them broad, flexible funding sources that they can use to address complex cases and the ever-changing needs on the ground."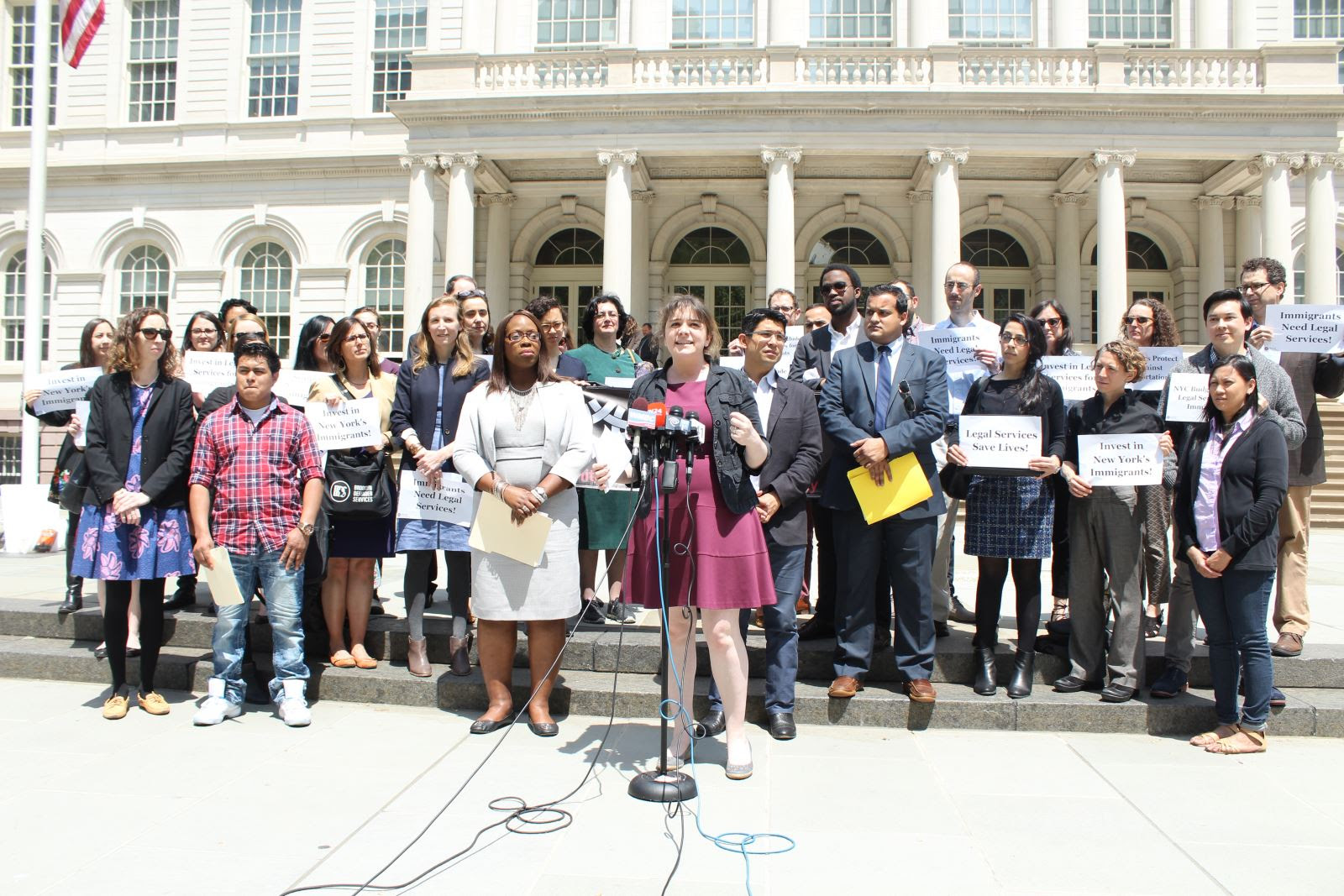 NYIC director of legal initiatives Camille Mackler facilitates a press conference today with lawyers, advocates, immigrant clients, and Council Members Carlos Menchaca and Vanessa Gibson, and Public Advocate Chief of Staff Ibrahim Khan.
"We know that defendants without representation in the courtroom are at a significant disadvantage, often with devastating results. For those facing deportation, the stakes could not be higher. While I am proud of the investments this city has made in immigrant services, I urge the Administration to extend existing city funded legal services beyond assistance with immigration forms and expand funding in the FY17 budget for initiatives that provide immigrant New Yorkers with adequate and necessary counsel in the court room. I thank New York Immigration Coalition and all of the advocates and stakeholders here today for their passionate protection of immigrants' rights and their ongoing dedication to protecting the legal and civil rights of all New Yorkers," said Chair of the Committee on Public Safety Council Member Vanessa L. Gibson.
Chair of the New York City Council Immigration Committee Council Member Carlos Menchaca said, "I have listened to the testimony from advocates, lawyers and their clients; there is an urgent need for the continued and increased support for immigrant legal services, in particular, for complex legal cases. I am convinced of this and I am determined to fight for an increase in resources that will benefit thousands of immigrants waiting to receive legal assistance as they work hard to integrate and contribute to this City. As a City, we have made certain commitments to the immigrant community; we must uphold these and remind immigrants in New York City that they do not have to navigate this broken immigration system alone."
| | |
| --- | --- |
| | |
| Council Member Carlos Menchaca calls for additional resources to be put towards legal support for New York's immigrants. | Council Member Vanessa Gibson says she stands by the needs of New York City's immigrant communities. |
"New York is a City built by immigrants, and we must continue to support those seeking a better life in our country," said Public Advocate Letitia James. "Our immigrants face a complicated legal system, and too often are threatened with deportation simply because they lack access to legal aid and resources. With the number of immigrants in New York City higher than ever, it is imperative we increase funding to support and protect our immigrants."
Immigrant clients of legal service organizations were also in attendance at the press conference, emphasizing the importance of legal support for their cases.
"Without a lawyer, I didn't know what was going on in immigration court. With a lawyer, I didn't feel alone. My lawyer supported me and that made all the difference," said Jose Sanchez, a client of The Door Legal Services who has been able to obtain legal help through ICARE funding.
"After being the victim of labor trafficking by my employer, I was undocumented and felt like I was out of options. With the help of a lawyer from the Urban Justice Center, I was able to get immigration status in the U.S., and soon I will see my children for the first time in 7 years," said Eleonor Morales Ramos, a client of The Urban Justice Center.
| | |
| --- | --- |
| | |
| Jose Sanchez, a Honduran client from The Door shares his experience and how legal servicse were critical to stop his deportation. | Eleonor Morales Ramos, a Filipina client with The Urban Justice Center shares her experience and why she desperately needed legal services. |
Legal advocates called on the need for additional financial support from the City to adequately serve thousands of immigrants in dire need of their services.
Michele Lampach, executive director of UnLocal, said "Thousands of indigent New Yorkers may be eligible for immigration relief, yet cannot secure immigration legal representation from one of New York City's non-profit immigrant legal services providers. There are simply too many of our neighbors, friends, family members, and colleagues in need of legal representation and not enough attorneys to represent them. As we have seen time and again, competent legal representation can make the difference between securing immigration status and families torn apart by deportation."
"Providers of free immigration legal services in New York City are faced with an overwhelming need for services, and so our lawyers are forced to turn away deserving clients with viable cases because we do not have the capacity or resources to represent them. The result is that many of these potential clients continue living their lives in uncertainty, or turn to unscrupulous providers who take advantage of them and their desire to remain in the United States with their families and communities. In a city where almost half of the residents are immigrants, we must do better to protect and provide services to some of our most vulnerable neighbors" said Carmen Maria Rey, deputy director of the Immigration Intervention Project at Sanctuary for Families.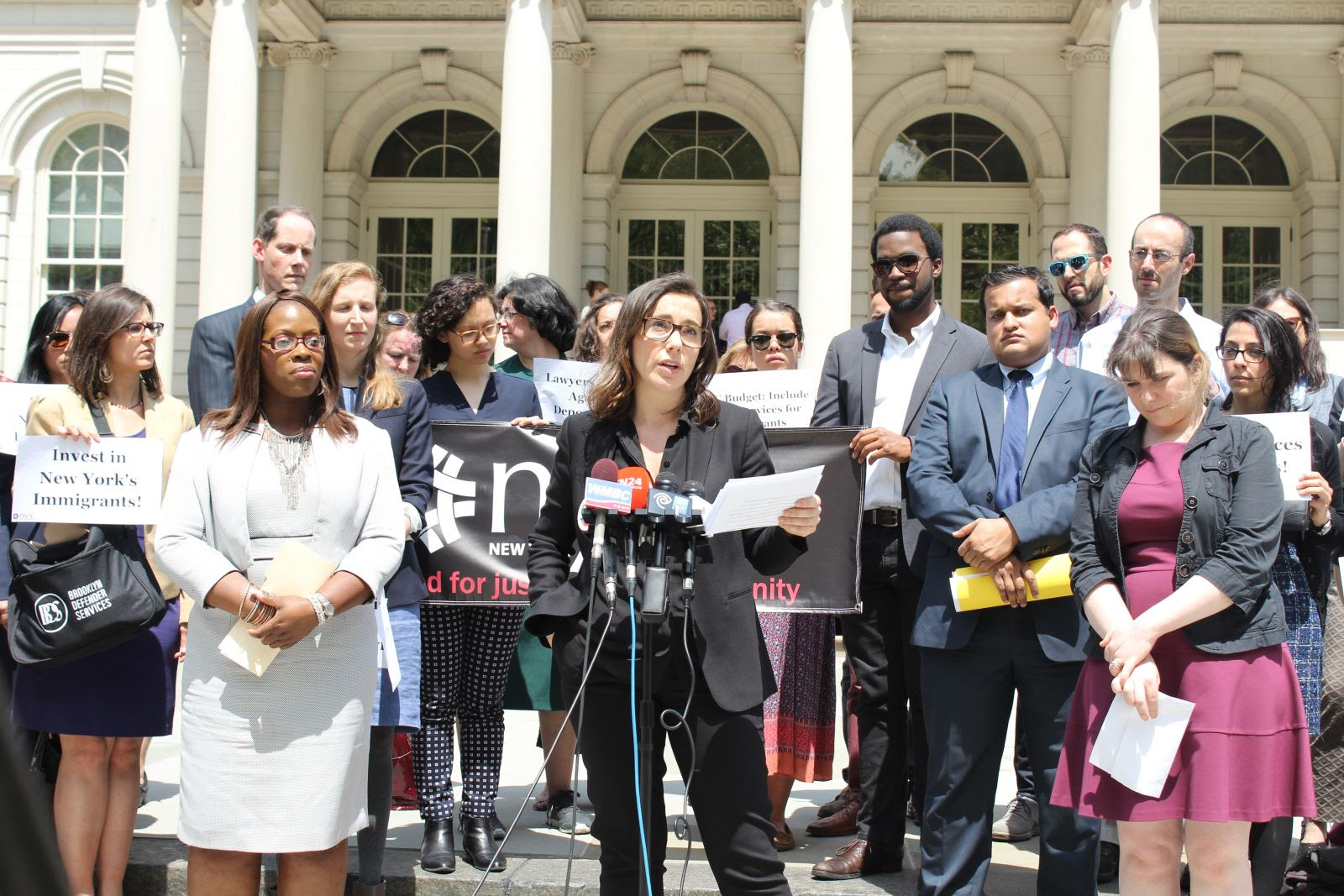 Carmen Maria Rey, deputy director of the Immigration Intervention Project at Sanctuary for Families, speaks about the high demand for immigration legal services and the lack of resources to meet the need.
# # #
The New York Immigration Coalition is an umbrella policy and advocacy organization for nearly 200 groups in New York State that work with immigrants and refugees.The NYIC aims to achieve a fairer and more just society that values the contributions of immigrants and extends opportunity to all by promoting immigrants' full civic participation, fostering their leadership, and providing a unified voice and a vehicle for collective action for New York's diverse immigrant communities.